150

Celebration

Celebrating 150 years of dedication, determination and opportunity. It's been our calling since 1871.
The U of A Turns 150!
March 27, 2021
Virtual celebration of the Sesquicentennial
Come as You Arkansas
September 10, 2021
All-day 150th Anniversary Celebration
Portraits of Progress
October 22, 2021
Silas Hunt Legacy Celebration
Home on the Hill
From Senior Walk, where the names of more than 200,000 graduates span miles of campus sidewalks, to our Wild Band of Razorbacks monument, the Hog Call, and the legacy of love tied to Spoofer's Stone, the U of A has a rich history of traditions that spans 150 years.
Then and Now
The university has grown since the Arkansas State Legislature established the U of A as the state's first public institute of higher education in 1871. From the first graduating class of nine men and women in 1876 to today's campus of more than 27,500 students, the U of A continues to change lives and build a better world through education, research, outreach and entrepreneurship.
For more historical images, check out our timeline!
Determined
Through its land-grant mission of teaching, research and outreach, the University of Arkansas has been steadfast in both its dedication to Arkansas and impact on the world.
#1
in the nation for supply chain management
$94 M
in scholarship awards
Top 20
in the nation for female inventors
Top 3%
of public universities for research activity
Progress
The Portraits of Progress website features vignettes on important figures who have helped make the U of A more diverse, equitable and inclusive. New stories will be added throughout the sesquicentennial year.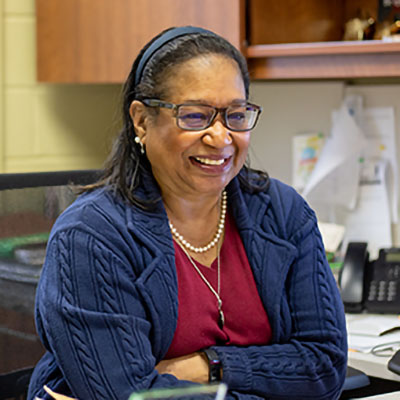 Portraits of Progress - Barbara Lofton
Barbara Lofton has dedicated her life to advancing diversity and inclusion as director of the Office for Diversity and Inclusion in the Sam M. Walton College of Business.
Determined
We are determined to build a better world through research and innovation.
$2.2 Billion Economic Impact
Fueling Arkansas' economy through jobs, commercialization and more.
If This Walk Could Talk
A new documentary about the University of Arkansas by Larry Foley, journalism professor and chair of the School of Journalism and Strategic Media, is in production and will be released in January, 2022 to commemorate the 150th anniversary of the first day of classes on the Hill. If This Walk Could Talk tells the story of the U of A, from personal reflections through time, by those whose names are etched in stone.
Ambassador Sign Up
Become a Social Hog and join our band of social media ambassadors sharing the news and celebrating the U of A online. Social Hogs will help lead the March 27th virtual sesquicentennia!
Sign Up Today!